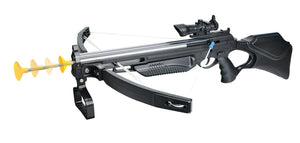 Crossbow Zombie Hunter Accessory
Sale price
$39.99
Regular price
$46.99
Daryl Dixon look out!  The perfect accessory to any Zombie Hunter costume.
STURDY / Nice Feel...Plastic crossbow with stock, sight, trigger grip and front end handle attached. Suction tip arrows included. This well crafted - cool looking bow will accent any Walking Dead or Zombie Hunter costume - just strap it to your back and that's that...It actually shots the arrows.
Approximately 28 inches long, 26 inches wide assembled, and 8 1/2 inches tall.
---
More from this collection